In our experience parties in a conflict often miss the opportunity to de-escalate and resolve the issue because they have a limited understanding of what is driving and defining their disagreement.
When we help clients to resolve their conflicts we follow a structured process:
1. We analyze concerned interests, the environment and evolution of the conflict
2. We identify all strategic options to resolve the conflict
3. We assess pro´s and con´s for all strategic options and their re-combinations
4. We let our clients select the best option to resolve conflict
5. We follow up on the successful resolution and make sure clients are satisfied
I strongly recommend that you follow the same procedure when you deal with conflicts. In this blog I want to highlihght the importance of the conflict assessment for you.
Why bother with analyzing concerned interests, environment and evolution of the conflict when you exactly see how you would like to have the issue resolved? 
Analyzing c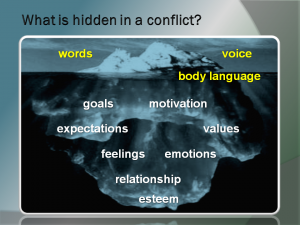 onflicts is the first step to a better understanding of your best options how a conflict can be resolved.
While the history of conflicts is important to know, the story involved parties are telling about the discourse is often incomplete. If you want to resolve conflicts you need to understand what actually drives the conflict.
Without that knowledge you might be inclined to go on your own route and miss the accord with partners that you need for a successful implementation of your solution. Then you walk all the way back to try another route – probably without success. Then you become frustrated because you tried so hard and do not see any improvement. So before you get too frustrated you may consider using a roadmap and utilizing the available information to find out of that jungle.
You also should know there are strong forces involved. That is one reason why conflicts never disappear without active work by the involved parties. They grow like an organism, although not always steady and sometimes rather seasonally.
If you can live with the specific conflict you may wait, but you better re-assess regularly whether the energy, trust and resources that are drawn by the conflict make a resolution effort appealing for you and the other parties.
Very often most of the complexity of conflicts is hidden underneath the easily visible surface. Very often it is not just `those people´ that can´t get along. It is more than them. In any kind of organizations you may find that structures or procedures sometimes do not fit to job or project descriptions.
The easily visible surface of the conflict is words, voices and body language. Underneath these elements you find relations between parties and their environment may be essential for the conflict, or their value systems and their interests.
We assess conflicts thoroughly and identify hidden drivers. With this knowledge we empower our clients to draw a roadmap to resolve the conflict. And that is what most people ask us for in the beginning.
What they get in addition is a better relationship between them and other parties. Experienced team leaders know that after the first storm that their ship has mastered teamwork is greatly improved and gets to the next level. A number of our clients made the same experience with conflicts.
So if you are in a conflict you may see a positive side: The conflict allows you to excel. Isn´t this a happy end?
Consensus is achievable! Kai Elmauer