On March 6th 2009, we facilitated the Grizzly Forum in Hope with more than 50 participants representing at least 30 organizations. They shared information about the future of the grizzly bear population in the North Cascades and determined whether support exists to follow through with grizzly recovery management and identified "basic rules" that need to be applied if grizzly re-introductions are to be done. The participants came from Washington State, US, and British Columbia, Canada.
Special interest groups, non-governmental organizations and experts of governmental agencies were present to talk in an open atmosphere as to whether there is a future for the North Cascades grizzly bear population.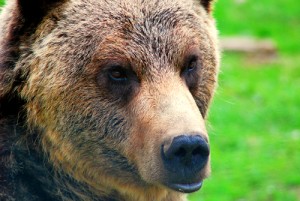 The Grizzly Forum aimed to inform stakeholders of current government bear management activities in the United States and Canada and to also provide scientific information about the grizzly bear. The presentations indicated that grizzly populations were historically very healthy in the North Cascades, prior to European settlement of British Columbia and Washington State. The grizzly's decline over the past 200 years has been driven by several factors — in particular, habitat loss and unregulated hunting and trapping. For example, fur company records show that in the year 1845 alone, 400 grizzly hides were taken from the North Cascades.
Today, the grizzly bear population of the North Cascades is estimated to be approximately 25 bears in both BC and Washington combined. Making matters worse, this small population is geographically isolated from adjacent populations, so the movement of new grizzlies into the North Cascades is negligible.
On the positive side, the habitat for grizzly bears in the North Cascades remains good according to scientific assessments. The largest area of suitable habitat exists in the state of Washington and about one third of North Cascades grizzly habitat is in British Columbia.
Two key points emerged from the scientific presentations. First, if no action is taken, the dwindling grizzly bear population of the North Cascades will disappear. Whether this happens in a few years or decades, there is little doubt about the final result. Second, the close cooperation of British Columbia and Washington State is essential if we are to save this population from extirpation.
As this area is unlikely to enjoy the benefits of natural ursine immigration, an ecosystem-based project for grizzly bear augmentation should be designed. In basic terms, the larger the area, the more likely success will be. A collaborative effort toward this ecosystem conservation could avoid piecemeal projects based on anthropogenic boundaries, focusing instead on potential wildlife boundaries (roads, large rivers, etc.).
Education in support of recovery could likewise be in collaboration between the countries, with the possibility of pooling resources and providing standardized information specific to the Cascades.
The Grizzly Forum also provided a safe environment for user groups to speak out about their concerns. In the afternoon the Roundtable discussion supported an open dialogue among governmental agencies, non-governmental organizations and special interest groups. It became very clear that there is a positive attitude toward the grizzlies in the North Cascades and even substantial support for an augmentation project.
Participants recommended basic guidelines for the management if such a project proceeds:
Involve special interest groups and listen to their ideas and concerns before decisions are made. For example, in recent assessments about the North Cascades and scientific literature about release of bears an important case is made about the remoteness of release sites. Project management has to consider carefully whether restricting access to these sites is necessary and how public support can be achieved. Acceptance by special interest groups could be reinforced by cooperation when selecting appropriate sites.
Educate and provide easily-accessible information about bears and the augmentation project.
Address more than biological or ecological issues, as many social and economic benefits are expected.
The participants realized there is hope for a common future with grizzly bears in the North Cascades, and they are willing to act for this purpose.
Consensus is achievable | Kai Elmauer